Love Scams
An overview of love scams:
Love scammers pretend to be looking for love, engage the affection of their possible victims by using photos from the internet to present a gorgeous view of themselves. They often target people on dating sites or in chat rooms and will repeatedly say that they are in love promptly in an effort to make the victim fall for them. To fight back against love scams, there are websites who are going beyond the mainstream approach to report and take actions against love scammers. They share their experiences and information in the form of portable documents.
How love scammers get you trapped:
The scam is not a one man affair; love scammers have a hierarchy and organizational structure that include the head, the manager and the workers. The internet is their prime source to get you trapped. They contact you through online by someone who appears interested in you. Often, scammers set up fake profiles and claim to be living overseas. They introduce themselves as a business man or women, who is seeking prospective soul mates. The scammers tell their own cooked up stories and pretend to be loving and caring. Through back and forth chatting, they try to gain your trust and scrutinize your personal information. After getting good rapport with you, he or she will ask you to pay their hospital bills, visa fees and other legal expenses. In an extreme case, you may be contacted by a fake doctor and requested to send huge sum of money for the hospital expense saying that your loved one is in need of surgery or medical assistance. The FBI report says that U.S citizens are losing an average of more than $400,000 dollars in these types of scams.
Vulnerable persons get targeted:
The cruel scammers target the helpless persons such as divorcees, widows, widowers and differently able persons, who have their residence in America. The cheaters clearly know that these persons are emotionally instable and want someone's console. So, they claim themselves as widows or widowers or divorcees, in order to gain your sympathy and trust. With the advantage of internet, these scammers cheat persons of even same gender.
Ways to identify love scammers:
Once you start chatting with such susceptible persons, they immediately ask for your picture, address and propose you within 24-48 hours from chatting.
They start to glorify their words and call you in nick name. Sometimes to earn your trust they even send you bouquets, greeting cards, candies, gifts etc.
They claim to be Americans, but their English will be atrocious with lot spelling and grammatical errors.
They will use IM (Internet Messenger) hours together even in unusual time zones. The scammers make opportunity to ask lot of questions that often deals with your personal bank accounts and wealth assets.
Love scammer avoids your phone calls, since they get easily identified with their poor English accent. They keep you in touch only through IM (Internet Messenger) and face book chatting.
They will not show any interest in revealing your relationship to others, they keep it secret. Above all, requesting financial assistance is the key for scam. So, try to keep such persons at bay.
Protect yourself from love scammers:
Avoid disclosing your personal information on social networking sites. When chatting with lesser known people, make sure that you do not reveal your bank account number and personal details such as contact numbers etc.
Never send money to any one without any proper verification. In case, they threaten you for not sending money, do not hesitate to seek the help of police.
If you get caught in to love scams through internet, you can also lodge complaint in Internet crime complaint center that works under the assistance of Federal Bureau of Investigation and National White Collar Crime Center.
If the scammers get caught they pretend that they have really fallen in love with the victim. But the fact is that they are planning for another dangerous scam for extracting more money.
Beware of fake investigators:
There are many fake investigators, who promise the customers to track their love scammer and bring them to justice. They offer their service for huge sum of money, but reality is that it is the extension of love scam. After cheating the innocents, they have their contact list and personal details and again cheat them in the name of investigation. So, it is much recommended to seek help only from FBI. In case, if you're opting private detective agencies double check their credentials.
Interesting Facts – Love Scam
Every one in four adults from United Kingdom have used an online dating website at some point of time in their life.
Every two in five people have come across fake profiles in online dating websites.
Every one in five people were asked for money stating (appearing to be) legitimate reasons by the person they were contacting.
According to a recent research conducted, it is inferred that 71% of Americans are willing to conduct a search on someone they are in a relationship with (or considering a relationship with) in order to be safe.
Men and women of age group 25 to 34 are more likely to fall prey to love scams.
Love Scam/Romance Scam is popularly known as "Confidence Fraud".
Majority of love scams are originating from emails and social media.
The narratives used by scammers to extract money from the victims are common to blackmailing, illness or wanting to meet.
A rapidly growing technique scammers are using these days is to impersonate American military personnel. Scammers use the images, names and profiles of soldiers to inspire confidence, trust and admiration in their female victims.
Every one in ten profiles in online dating websites is a scam.
Common Narratives used by scammers in order to extract money from their victims:
The scammer says their boss paid them in postal money orders. The scammer wants the mark to cash the money orders, and then wire money to the scammer. The forged money orders leave the banks to incur debts against the victims. The scammer says their boss paid them in postal money orders. The scammer wants the mark to cash the money orders, and then wire money to the scammer. The forged money orders leave the banks to incur debts against the victims.
The scammer says they need the mark to send money to pay for a passport.
The scammer fascinated in a hotel (ID seized to make certain bill settlement).
The scammer has tickets to visit you, but there are extra expenses, and they need help for some unexpected expenses.
The scammer says they require money for flights to the victim's country because of being left there by a step-parent, or husband/wife, or because they are just tired of living in their country and somehow never comes, or says that they are being held against their will by immigration authorities, who demand bribes.
The scammer says they have had gold bars or other valuables seized by customs and need to pay taxes to before they can recover them before joining the victim in his/her country
The scammer meets the victim on an online dating site, lives in a foreign country, falls in love, but needs money to join the victim in his/her country.
The scammer says they are being held against their will for failure to pay a bill or requires money for hospital bills.
The scammer says they need the money to pay for the phone bills in order to continue communicating with the victim.
The scammer says they need the money for their or their parents' urgent medical treatment.
The scammer says they need the money to successfully graduate before they can visit the victim.
The scammer offers a job, often to people in a poor country, on payment of a registration fee. These are particularly common at African dating sites.
The scammer actually is employed directly or indirectly by a website, with a share of the victim's member or usage fees passed on to the scammer.
Some statistical data from the internet pertaining to Love Scams
1) The below statistics show the number of love scam cases reported in the year 2012. It is inferred that women are more likely to fall prey to love scam when compared to men. The chart also reveals the age group of men and women that have been victims of love scam.
2) The below chart specifies increase in the number of users of online dating websites from the year 2008 to 2009. Scammers take advantage of these increasing numbers of users in online dating sites and tend to create fake profiles and cheat in the name of love.
3) The below statistics from FBI Internet Crime Complaint Center reveals the data about the most popular scam in which Americans lose hundreds of millions in online scams. The top most source of online scam reported is the romance scam or the love scam where men and women lost maximum money.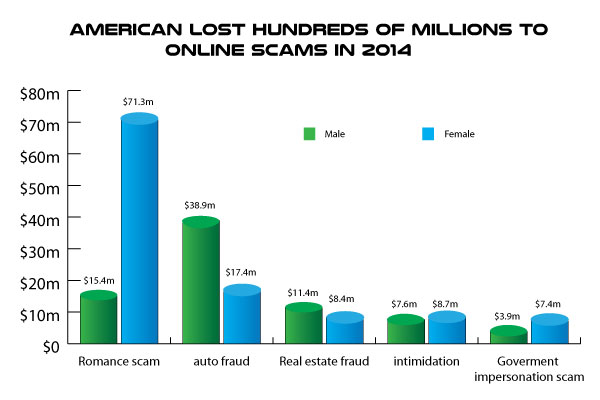 4) The below chart depicts the percentage of American adults in each age group who have used online dating websites or apps. The highest number of users is reported in the age group 25 to 34 years followed by 35 to 44 years. It is also inferred that the maximum number of victims falling prey to love scam are from the age group 25 to 35 years.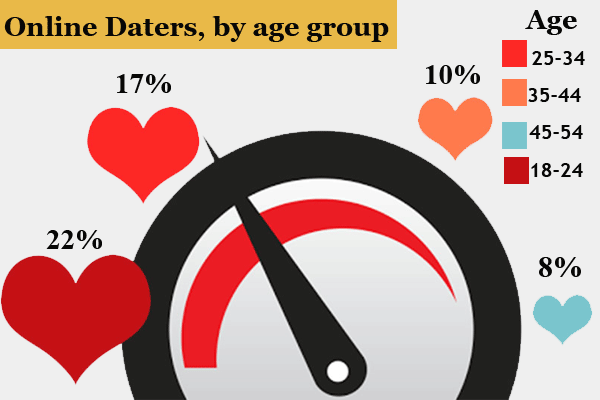 5) Love Scam/ Romance Scam also popularly known as Confidence fraud is one of the most common ways adopted by scammers in order to swindle money from users. The below pie chart shows the total number of losses reported segregated by the age group of men and women. Women with age group 40 and above have reported the maximum number of losses in love scam.
The graph shows statistics of online love/romance scam in September 2015. It reports the number of financial losses and the sources of love scam.
Cases Reported in Love Scam
Oshanugor James Anyasi, 35 year old Nigerian scammer was sentenced to jail for 12 years for having duped a woman of about 400 million (US $17,800) promising false love to her. The Vietnamese woman who was the victim of love scam managed to report the scammer to the police.
Adeboye Quadri Amodemaja in 2012 defrauded Laura Reffosco by falsely representing to her that he was in love with her and wanted to marry her. He obtained a lump sum amount of 70,878 Euros from her in the name of love.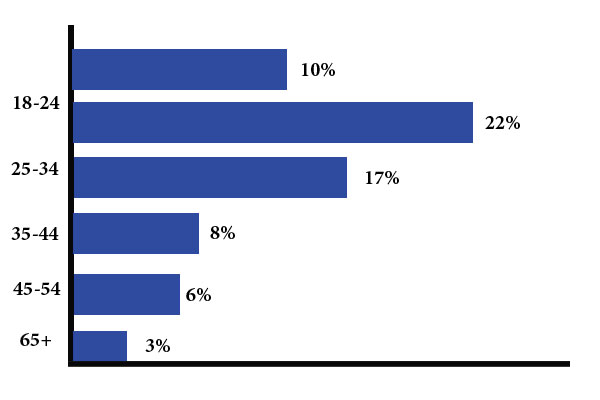 Singles, Divorcee's and widows are most vulnerable to love scam. In the urge of starting a new relationship, these women end up trusting scammers and wire out thousands of dollars to them in the name of love and care. The number of love scam stories being reported is increasing day by day.
The latest news on Online dating website hacked – 90% of profiles discovered to be fake!
The below news talks about the online dating site that was recently hacked. AshleyMadison.com is now popularly known as online cheating site with thousands of fake female account profiles. The hackers revealed that there were no real women who created profiles in AshleyMadison.com. Men who were dating women online at AshelyMadison.com were indirectly victims of love scam. An in depth analysis on the site's user database revealed that there were about 31 million accounts belonging to men and about 5 million accounts belonging to women. 90% of these accounts created for women were created internally.
Investigation and conspiracy after hacking AshleyMadison.com sums up everything in the following lines that "AshleyMadison.com is a site where tens of millions of men write mail, chat, and spend money for women who aren't there." AshleyMadison.com is the biggest example that users can take in order to beware about love scam.
The Real News about Ashley Madison – Revealed!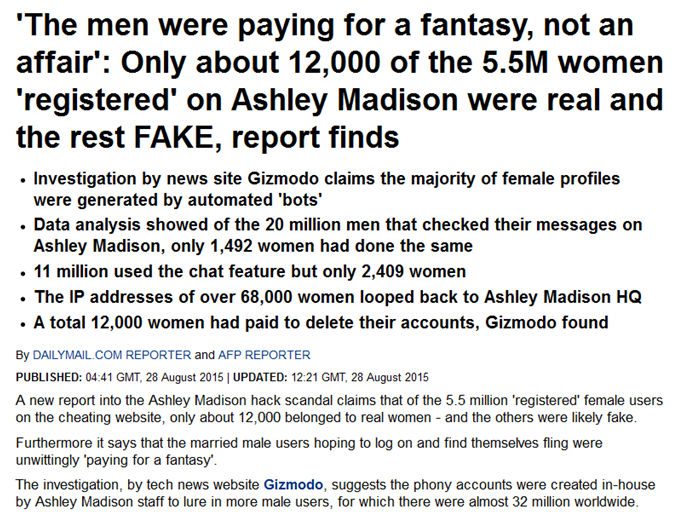 The below mentioned statistical data from AshleyMadison.com shows that there were only limited number of female profiles that were created internally by the workers of AshleyMadison.com. The data also reveals the usage of the website by the female profile which is considerably very less when compared to the male accounts.
It was inferred that the IP addresses of over 68,000 registered female users looped back to Ashley Madison Headquarters. So what does all this prove? Ashley Madison's female profiles were all created with the intention of conducting scam. Online dating websites are never trust worthy. There can be a whole syndicate involved behind such dating sites that conduct scam in the name of love.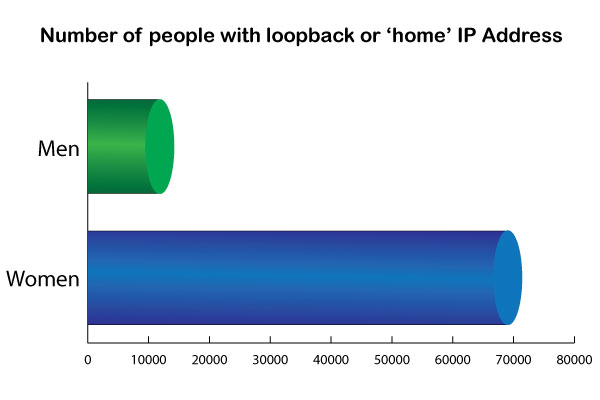 Feel Free to use our Spam Checker Tool
We are providing the
Spam Checker Tool
for your convenience. Here you can enter the email or the contact number that you suspect to be a scam. This tool checks it with our spam database list and ensure you regarding the email or the phone number is real one or the bogus.
Report scam
to United States government-you could file a complaint about scam or other crime here.