Employment Scams
The common employment scams that is on trend:
Finding a job is a daunting task for any graduate, knowing this very well, the scammers take advantage on people, who seek genuine jobs by providing them with fake job promises. These employment scammers are brutally creative and they make you easily fall into their bogus placement tricks, making you lose your money, time and to the worst case sometimes they even commit crime activities with your name and address. Make one thing clear that no legitimate employers or employment firms will ask you to pay before getting placed, if they, then it clearly indicates a sign of red flag and it is witty to keep away with them.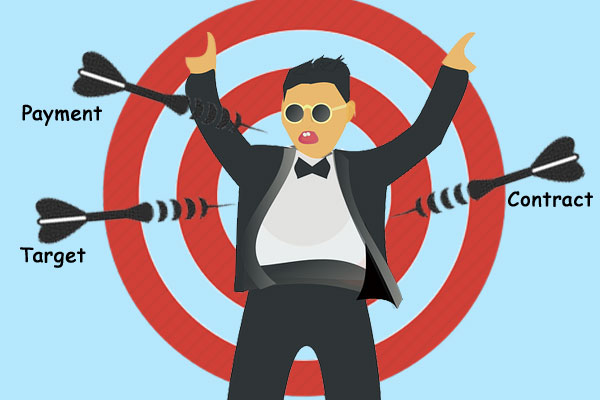 How scammers approach you:
If you are getting call letters with logos of reputed companies inviting you to attend interview on some specified date in location that is not within your vicinity, then never hesitate to make a call to the mentioned location and check whether the interview is a legitimate one or not. Since most of the scammers will voluntarily make it on different states in order to pull money for your air ticket and accommodation charges, to get them benefitted utmost out of your expense. Sometimes you might get mails with appointment letter stating that they are recruiting you directly without any interviews for which you have to pay certain amount for paper work. If you come across any such offer, kindly ignore it as no company will recruit people without knowing their efficiency and capabilities.
How does employment scams work:
They track the job seeker's resumes from job portals and contact them saying that they are finding fresher or experienced professionals for their client's company and you met their job criteria and they are interested in hiring you. Once you get convinced with their oily speech and wish to take up their job offer, immediately they scrutinize your personal information such as bank account number, credit card details, social security number and other details that are enough to get you into employment scam and identity theft. Without your knowledge they will start using your personal information for the felonies, they are committing and you would be left stranded after you pay the cash for the training materials, certification and duplicate appointment letter that do not materialize.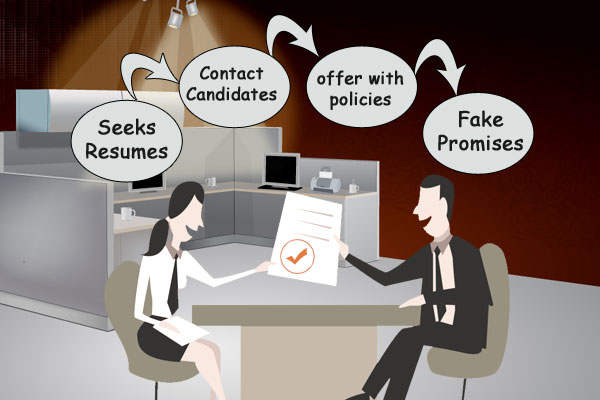 Fresh graduates are highly vulnerable to employment scams:
Fresh candidates seeking immediate employment after completing their graduation are more likely to get scammed since their motive is to get a job in one way or the other and the unscrupulous scammers make use of their haste by playing an employment trick. The host of crowd, who seeks attractive salary package, is also under the risk.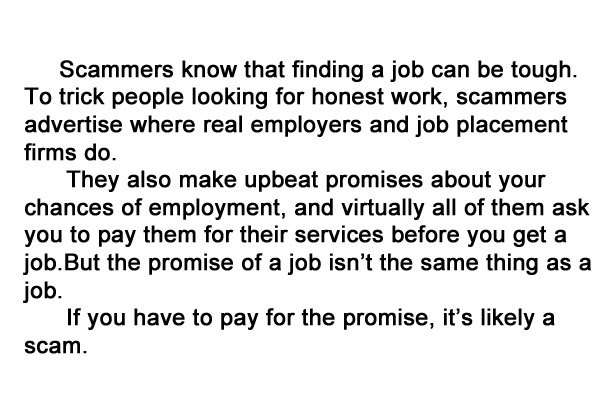 Ways to protect yourself from getting scammed:
Never ever respond to mails from unauthorised web portals that attract you with high package in reputed company name. Do research and conform whether the offer is genuine, before enclosing your personal details to the employer. Ask yourself the question is that necessary to attend doubted interviews that demands high charges. Take liberty to directly call companies that have scheduled interview for you than relying on the third party. Come out from the state of mind that appreciates the policy "pay and get the job". It is quiet common that the scammers target the persons, who have the desire to make quick money. So seek a genuine job that fits your graduation and efficiency rather than the one that offers good package.
Example of Employment scam
Dear Francis Sanjoy Rozario,
NOTIFICATION OF EMPLOYMENT
Congratulations! following the completion of your job application and educational qualification, we are pleased to confirm that you have been selected to work for Al Habtoor Leighton LLC (HLG) UAE. We are delighted to make you the following offer in this position on our team, based on your previous work experience and your impressive educational accomplishments. The HLG Management are confident you will thrive professionally and personally while working for our organization.
Find attached herewith, is the prototype of your Employment Letter which contains the Terms and Conditions of your Contract Package for your perusal and approval. On your review and acceptance of this Contract Package, sign on the last page and send back to us a scanned copy of the Acceptance (Last) Page by email (hr@alhabtoor-llc.com). However, you recommended to contact MIDDLE EAST TRAVEL & TOURS UAE for the acquisition of your UAE Work/Residence Permit Papers which will enable you to legally live and work in U.A.E, thereby sending also a copy of the acceptance last page to them for their processing of your requisite through their contact details below:
MIDDLE EAST TRAVEL & TOURS UAE
Trade Centre Road – Dubai
P. O. Box: 82541, Dubai
United Arab Emirates.
Email: wpv.ae@middleeasttraveltours.cu.cc
Alter: middleeasttravelt.uae@yandex.com
Phone: +971 523 3287785
Contact Person: Anthony S. V. Woods
The hard copies of your Contract documents have been forward to MIDDLE EAST TRAVEL & TOURS UAE, who shall solicit on the preparation of your Working Visa Resident Permit from the Visa Authorities here in UAE. The same will be sent to you through courier service after all formalities have been accomplished with the UAE Visa Authorities here in UAE. This is in line with the Expatriate Statuary Law of UAE. Keep us up to date us with the process between you and the travel agency in case of advice where necessary, and ensure you provide them their requirements quickly for the fastest process from their office. Also remember that any expense you make for the processing of your UAE Residence/Work Permit Papers shall be refunded back to you immediately you submit your expenses report/receipt to us via email.
NOTIFICATION FOR ELABORATION PROGRAM
Upon your arrival to Dubai International Airport; you shall be received at the Airport by our delegates. Also there will be a mandatory expatriates orientation / elaboration training program, organized for all expatriates by the management to orient newly employed staff about the company, the Executives, Departments, and more on your job duties. This will take place within the Premises of Al Habtoor Leighton LLC (HLG) UAE, and this Program will start 14 days on arrival for work sign-on. It is of very importance that your make sure your participate on the elaboration program which is scheduled to commence on your stipulated joining date. This means you should be able to relocated before your states joining date.
ELABORATION PROGRAM NUMBER
Your assigned Elaboration Program Number for the 2016 Al Habtoor Leighton LLC (HLG) UAE training program is HLG-25816. We at Al Habtoor Leighton LLC (HLG) UAE congratulates you today on your success emergence and look forward to welcoming you aboard Should you require more information, please feel free to contact us immediately.
Best Regards,
ENG. Ranja Zayed
Employment Processing Manager
Al Habtoor Leighton LLC (HLG) UAE
Airport Road, Rashidiya
P.O. Box 10869
Tel: + 971 526 574052
Fax: + 971 526 570000
Dubai,
United Arab Emirates.