What is rental scam?
Scammers fix their own cost of prices for the luxury apartments and homes mostly at a price that is lower than the market price. They voluntarily take the ownership of rental apartments claiming that the original owners are out of state as they are the agents working on behalf of them in handling the housing properties. The specialty of this scam is scammers bid price which is much lower than the original estimate.
How scammers work on this rental scam
They manipulate the list of housing and apartment images with their own tagged prices in making people approach them. They even pose fake tag of selling properties as rental and post for advertisements. This makes the scammer prone get many numbers of emails to their personal disk. The scammer in turn asks for the personal information and urgency of new house rental. On acquiring information, the scammers ask to send the money through Money Gram or Western union without showing you the exact location of the property which is the fraudulent deal.
How to identify rental scams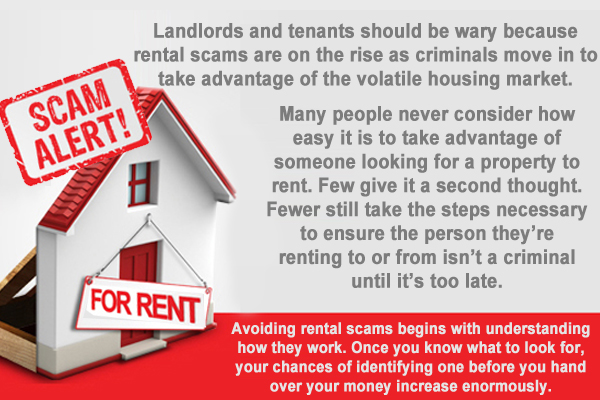 Rental scams can be identified by the following :
You are urged to pay money through Money Gram or Western union as advance and one month rent before seeing the actual place.
Claiming that owner is out of city and you need to transfer bucks to the given alternate account
Getting email with spelling mistakes, grammatical errors appended with some sad stories
Price of the rental property being cheap than the market price at the same locality
No legal documents are been issued before asking for transfer of money
Asking to fill application that never poses an authenticated owner details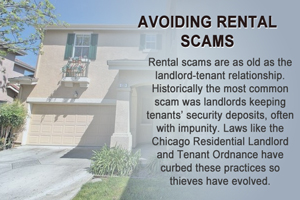 How huntscammer work against this rental scam
In order to eradicate fraudulent activities been revolved especially in the rental scam, we put efforts in listing down only the legitimate rental properties where you can check it by just entering the name and locality of your search. Frequent warnings and alerts are been generated on cases of fraudulent rental scams that include the way how scammers manage to trick people. We join in your mission of eliminating scam by reaching out to multiple audiences in preventing them to fall under the same circumstances. Provided space to register your complaints and doubted listings on which we forward it to legal action section and other government fraudulent prevention sections. We provide authenticated information about properties through our potential algorithms that filter out the doubted listings.
How to stay away from this rental scam
Before looking for rental properties get the clear idea and proof about the originality
<
Never transfer your money through online unless you get a proper confirmation
Before looking for rental properties get the clear idea and proof about the originality
It is better to have a family member or friend in travelling with this process
Strictly do not depend on third parties who are so called agents